Since the first week of my employment with Modular Robotics, I've been hearing production staff talk about the process of getting a stencil printer with great enthusiasm. Someone talked to the vendor and mentioned that a stencil printer had been found for a good price on my second or third day here. Then, there was work involved to determine price and how to get it here. More talk of the much-anticipated stencil printer the next week in order to plan going to see it, get a basic training on running it, and make sure it worked. It's been mentioned in our daily staff meeting roughly once a week, for one reason or another, for the last 12 weeks. But the thing that caused MY ears to perk up was when someone casually mentioned, "Yeah, when we load in a new piece of equipment, we rent a forklift. Wanna drive it? It's fun."
Now, don't get me wrong, the stencil printer is a sleek and space-age-looking piece of machinery. I don't want to diminish the importance of this piece of machinery that's been awaited so eagerly. ( I have it on good authority that we'll be blogging about all of the wonderful things it will mean for the incremental upgrade of Cubelets production in the very near future.) But, a stencil printer sits in one place and a forklift not only GOES but lifts things. I cannot tell a lie – I was pretty dern excited about the forklift. Especially after hearing about it for weeks! As it turns out, I didn't get to drive it (and you'll see why), but never fear, I know we'll rent a forklift again. And in the meantime, our forklift fun illustrates some of the things I most adore about working here – the creative and entrepreneurial impulse to just jump in and try things, our collaborative problem solving culture, and our seemingly boundless ability to laugh at ourselves.
Enjoy a re-cap of our stencil printer delivery and forklift fun via these pictures and captions – it was an interesting week.
April 14, 2013 – On the day before the stencil printer arrived . . .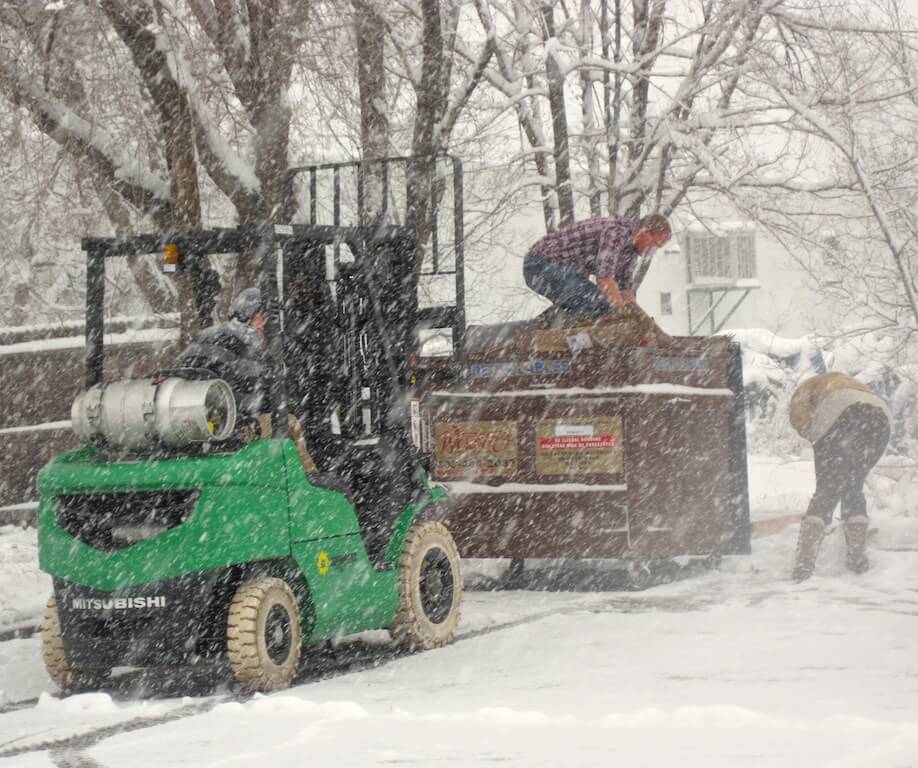 It started snowing like it meant business, but this deterred no one from cleaning up our factory floor . . . and then jumping in our new dumpster.
April 15th – The Stencil Printer arrived!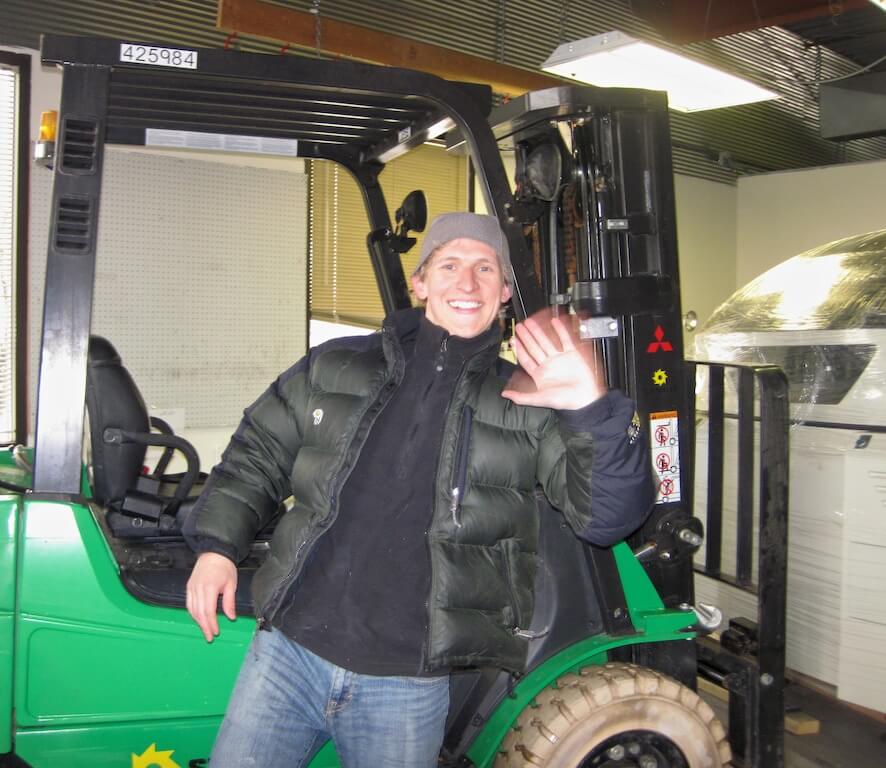 And it made Matthew happy. And this was good.
By April 19th, more people had thoughts on what we could do with the forklift.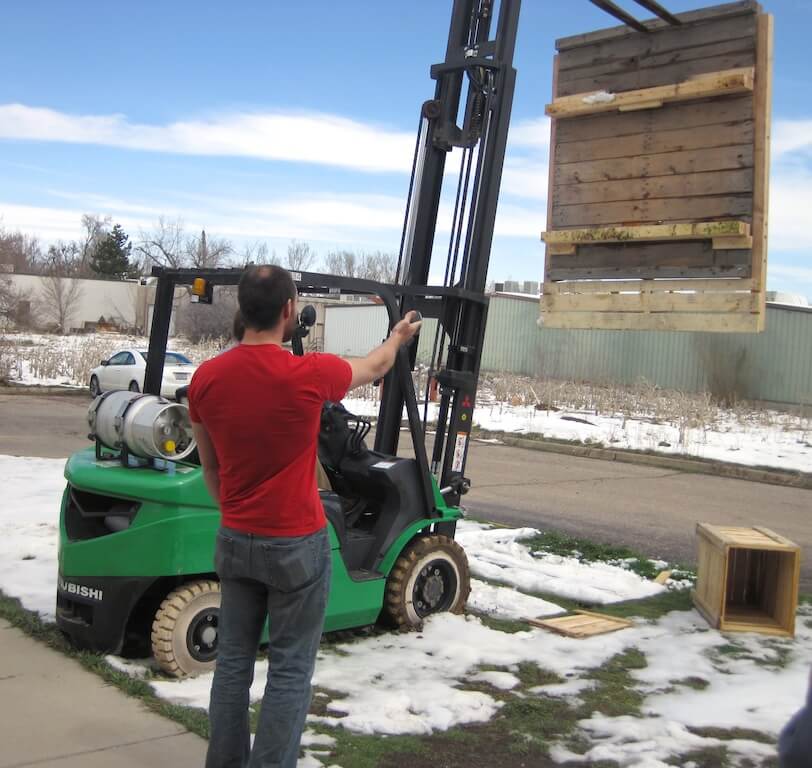 Such as lifting things up on high and then dropping them with a clamor.
Of course, we'd all forgotten that all of the snow from earlier in the week melted, transforming our lawn into a silent trap for the mighty, but heavy, forklift.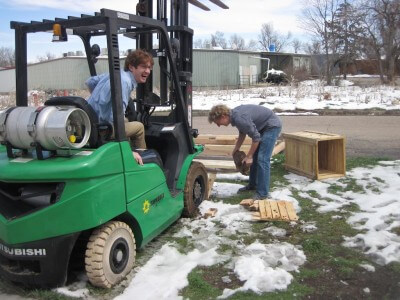 Sadly, our friend the forklift was stuck. But we were good-natured about it, assuming that with all our combined skill-sets we could solve this dilemma. Surely, with the number of engineers here alone, that would take care of it!
We tried pushing the forklift out in two different ways.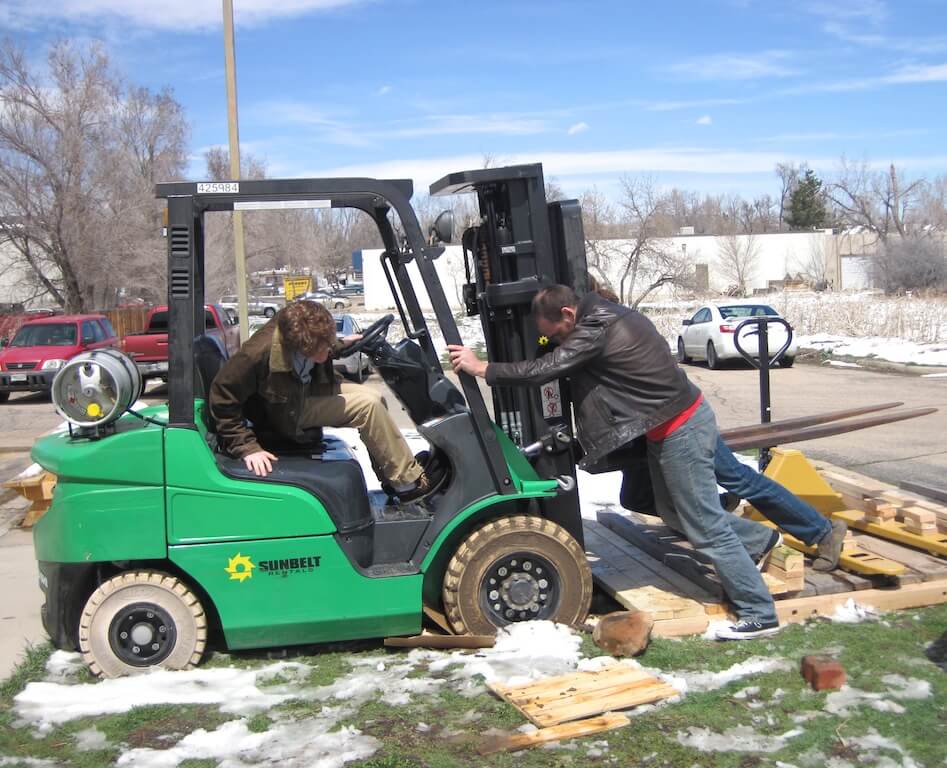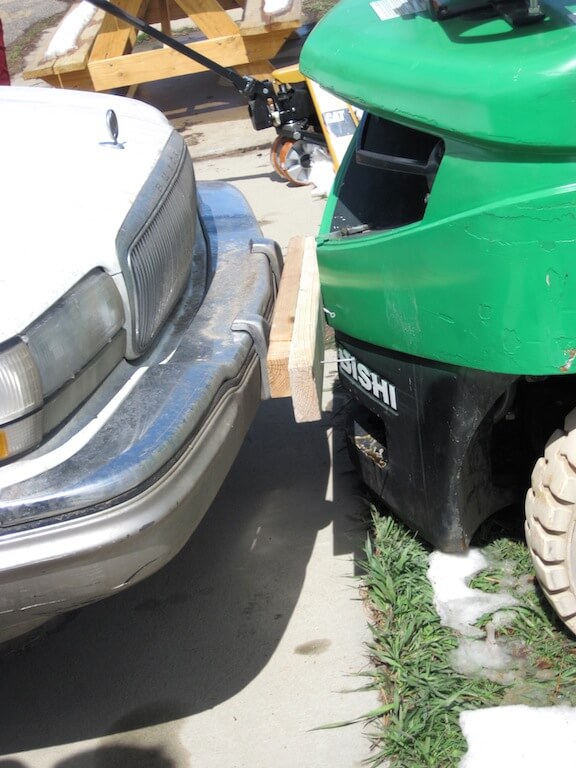 It turns out forklifts weigh more than 2 tons! (Who knew!) So, these efforts were in vain.
We tried lifting it UP (Go, go gadget pallet jack!)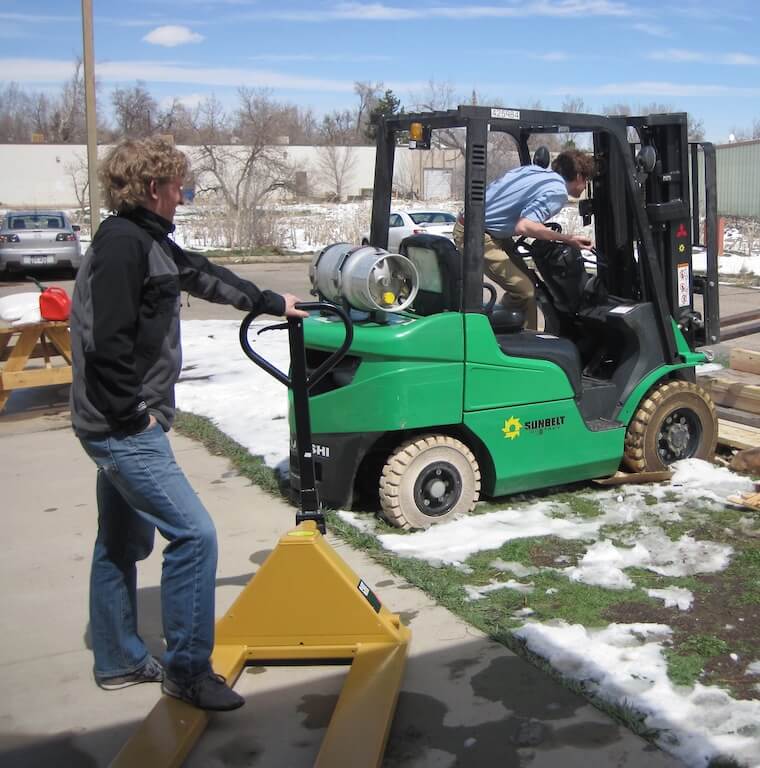 And weighing it DOWN (Hi Carl! Hi Michael!)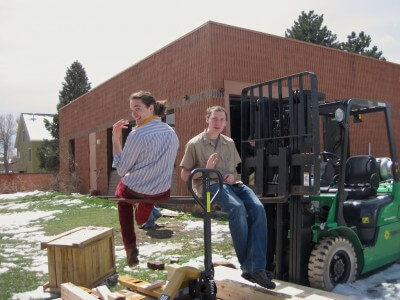 These attempts were to no avail. So, in a last ditch effort, we tried "polo-malletting" wood under the tires.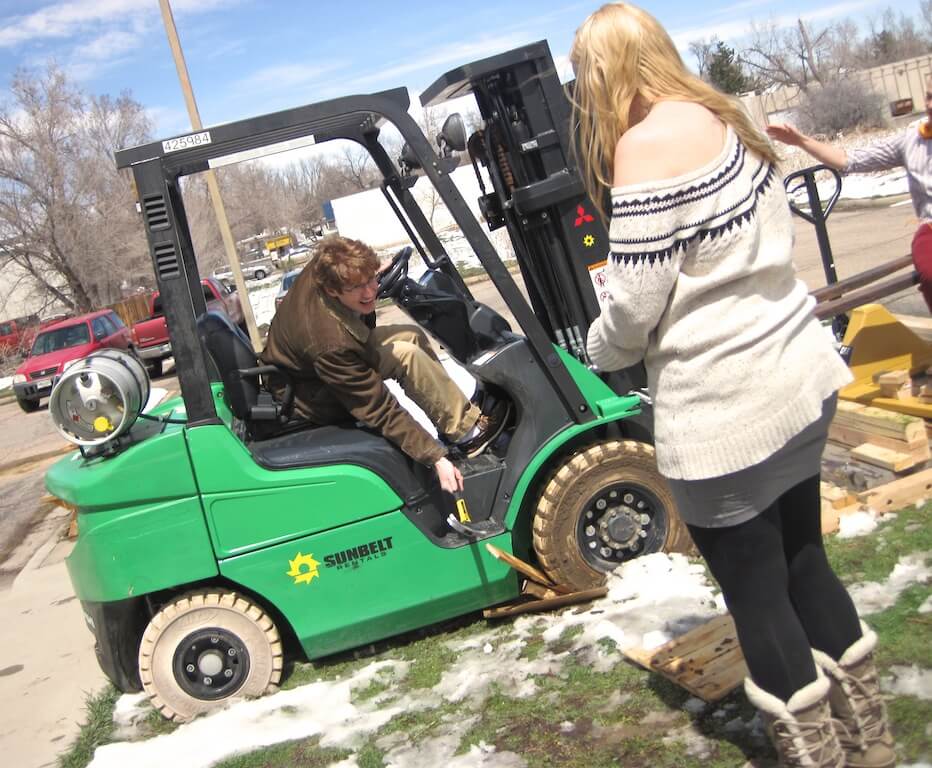 We tried lots of things, and though our character building was great, and our critical thinking well-honed, our friend the forklift was still stuck. In the end, the answer was simple.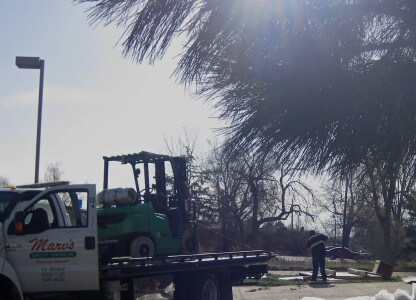 Call the tow truck!