We've been delaying the date that we think we're going to ship our first Cubelets kits for months now, and it's driving us crazy. It's annoying other people as well, and I'm sorry for that.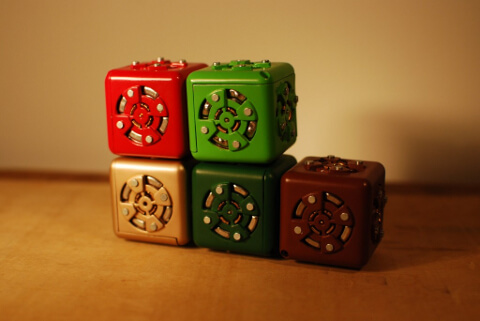 I studied architecture in college, but have worked mostly on software projects since then. While software isn't always easy, it can certainly be fast. Especially now that much software is internet-based, programmers can easily iterate, fix problems, and release new versions quickly. Most architecture projects are the opposite: five years from idea to final construction isn't out of the ordinary. Although I originally had a thought that Cubelets manufacturing could be agile and more like software production, it's clearly more like an architecture project, and in fact it's been about five years since we started.
We received an enormous box full of thousands of tiny magnets yesterday, and they were all about 0.2mm too long. This seems like a tiny amount, but since our magnets are cast into the plastic Cubelet shells, magnets that are too long prevent the injection mold from fully closing and can also scratch the expensive mold badly. These custom magnets came after working with the supplier for three months to get the design just perfect. We'll have to either shave down every magnet and re-plate it, or make a new batch which takes 2 weeks. It's the little problems like this that multiply for Modular Robotics. There are 300 different parts in each Cubelet kit, many of them custom, from almost 100 different suppliers. And since assembly happens in sequential steps, each problem holds up the process. We've already sorted out problems like wheels that were too small, metal parts with lead in them, faulty LEDs, and spontaneously discontinued electronic parts. I never even imagined that something like an earthquake in Japan would influence our production. Although we're successfully solving each new problem as it comes up, we're going slower than we hoped.
We've finished building circuit boards for the first 100 Cubelets kits and the software is tested and ready. When we have all of our custom-made parts in hand and can begin mechanical assembly, I'll be able to update this post with a revised shipping date. Meanwhile, thanks for joining us on this exciting little journey.