O frabjous day! I'm happy to report that Richard Siemens, our 1997 Siplace 80-S20 dual-head, conveyorized Pick & Place machine is fully operational! The significance of this milestone has everything to do with the fact that we bought it in September and have been debugging and repairing it ever since. Here's us celebrating in our parking lot with a few bottles of Prosecco.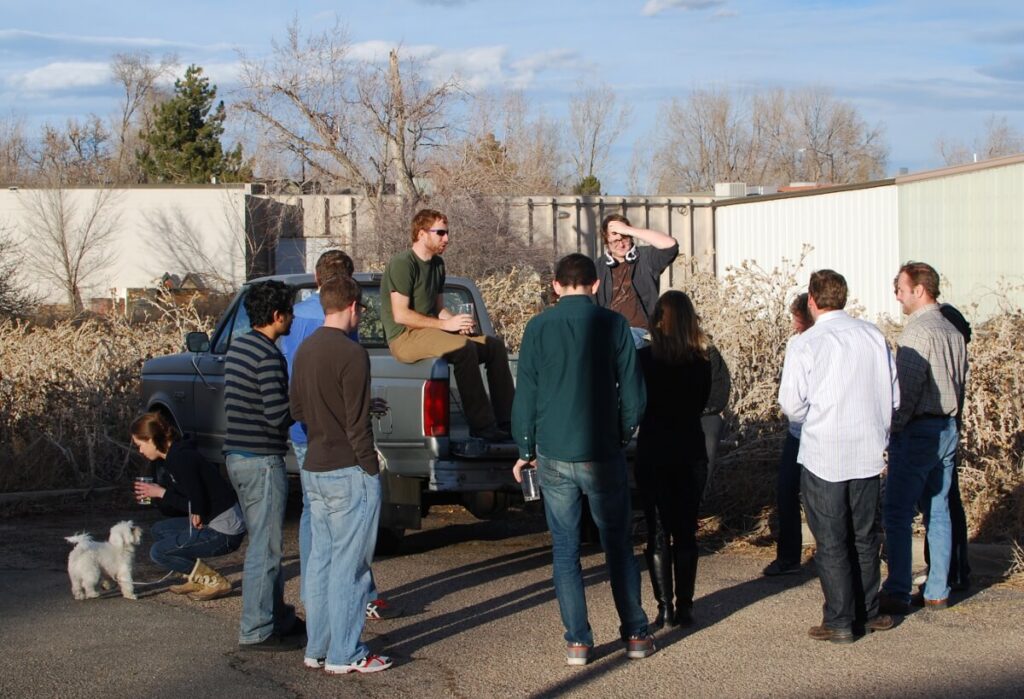 Do you have a kit of Cubelets? Every single Cubelet contains a few tiny circuit boards, and most of these boards have quite a few fiddly little electronic components soldered on top: resistors, capacitors, microcontrollers, etc. If you're holding a Cubelet in your hands, you might be surprised to know that the bulk of those components were placed onto the board manually, with tweezers, by one of our assembly elves. We've manually placed about 30,000 boards worth of components by hand! And that's crazy, as most visitors to our factory have pointed out. No longer.
We began shopping for a Pick & Place machine this Summer. We've spent a lot of time playing electronics with our friends at SparkFun and have been inspired by the creative ways that they manage to manufacture their products here in Boulder, CO. They're currently making use of three P&P machines: two small Manncorp models and a brand-new fancy Mydata monster that they've written about recently. The Mydata machine is pretty incredible, but it's also $170,000. Yeah. So we bought an $11,000 used Siemens machine that had been sitting in a shuttered factory in Mexico. Yes, we found sand inside.
I'm way too excited about Richard's current functionality to turn this into a rant about a certain shady industrial equipment dealer. The short version is that the machine, advertised as "tested and working," needed a few thousand dollars worth of parts, some motor control boards, belts, hoses, all new software, and a few hundred hours worth of tinkering. Four months later, here we are. But look how fast!
Fast indeed. Richard (we named him after our favorite aerobics instructor) is rated at 21,000 components per hour. 2 heads! 12 nozzles on each head! Nozzle garages! I never thought that I'd be so excited by assembly robots.