For Texas' Northside Independent School District, the learning doesn't stop when the school day ends. No one knows that better than Mario Adame, a Program Specialist, and Monica Garza, a Family Engagement Specialist. With their efforts, Cubelets were added to NISD campuses in a variety of capacities, most notably as part of a TEA Grant Funded innovative after-school program called the Learning Tree.
The Learning Tree program is currently offered to students in NISD's 79 elementary and 20 middle schools. Over 6,000 students participate in the after-school program. The students are given the option of participating in activities of their own choice, such as Culinary, Yoga, Mindful Coloring, and Upcycle. However, all students who participate in the program use Cubelets and they have been a huge hit!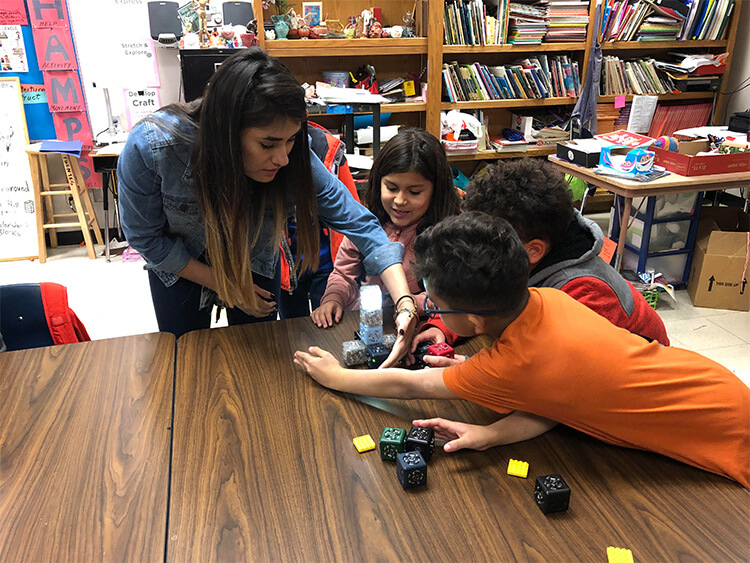 "Once [the students] got to know the Cubelets, they became very excited. You could easily observe their enjoyment and comfort level increase." Mr. Adame and Ms. Garza go on to say that when the students use Cubelets, "you see smiling faces accompanied with giggles and laughter."
Cubelets have had a big impact on students in the district who participate in the after-school program. For one, students are being exposed to a technology that they may not have access to otherwise during the school day. Students also feel a sense of empowerment when they successfully complete a task or create a new robot with the Cubelets.
Right now, Cubelets are primarily used during group activities to "…expand social and emotional learning, teach teamwork, and promote critical thinking. [Students] are focusing on learning how each Cubelet functions, understanding how to engineer them to create a specific action, and report and discuss their findings." For the 2019-2020 school year, students will learn how to code with Cubelets, and they are very excited!
For other educators who are getting started with Cubelets, Mr. Adame and Ms. Garza suggest that it's important to learn how to explain each SENSE, THINK, and ACT Cubelet so that the children understand the purpose of each one.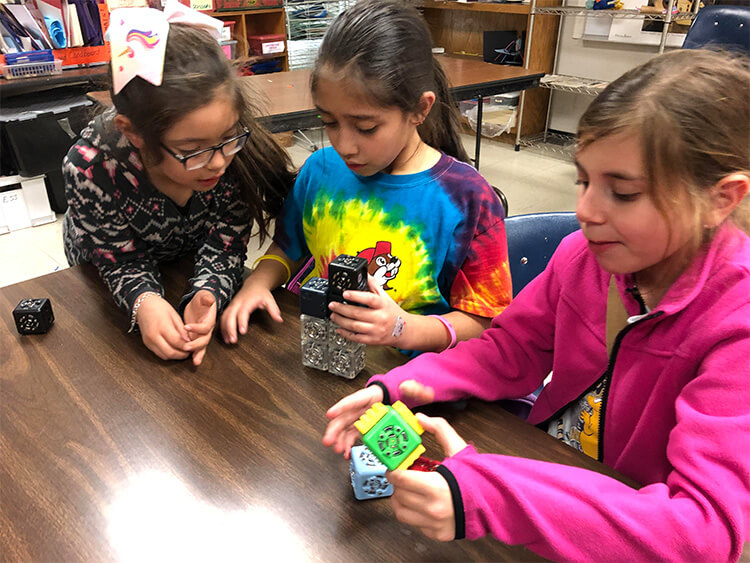 "As educators, we want to be able to answer all of the students' questions in a clear way that they can understand, no matter what grade level they are in," they say. "If you can provide visualizations for the students, that can also be of huge help for them."
Mr. Adame and Ms. Garza appreciate the support they received from the Modular Robotics team to implement Cubelets in their programs. They found it particularly helpful to have the Cubelets Educational Designer come out and train their staff. In addition, they love the support they receive on Twitter when they tweet about their students!
One of Mr. Adame's and Ms. Garza's favorite Cubelets story involves having first-grade students build and race Cubelets robots! Students were given an objective to race the Cubelets in a straight line, and the video can be viewed here. They are also proud to report that four 4th-grade students presented Cubelets at the TEA after-school state conference this past year, focusing on the function of Cubelets and what could be done with them creatively.
"The most challenging and fun part for our students is simply figuring out the combinations of each robot. At first, some students, and even staff, get frustrated but once they have their "aha" moment, it's all worth it. Once they have figured out the roles of each [Cubelet], they get so creative and think of new ways to create a new robot. They love it!"
All images provided by Monica Garza and used with permission.