Barbara Grindle knows the endless possibilities that Cubelets robot blocks offer to students of all ages. A third-grade teacher at Marshdale Elementary in Evergreen, Colorado, Ms. Grindle serves as her school's Gifted and Talented Building Liaison, as well as the STEAM Class Coordinator.
She likes to use Cubelets in her Friday Afternoon Clubs as an exploration exercise. She challenges her students to experiment and determine what each robot block does, as well as figure out how they work together. In her after-school STEAM class, Mrs. Grindle uses Cubelets and the Cubelets Blockly app to explore coding.
For Ms. Grindle's students, Cubelets have fostered a variety of engaging lessons that develop 21st-century skills. She advises her fellow educators to think about what they can teach using technology, as opposed to what they can teach about technology.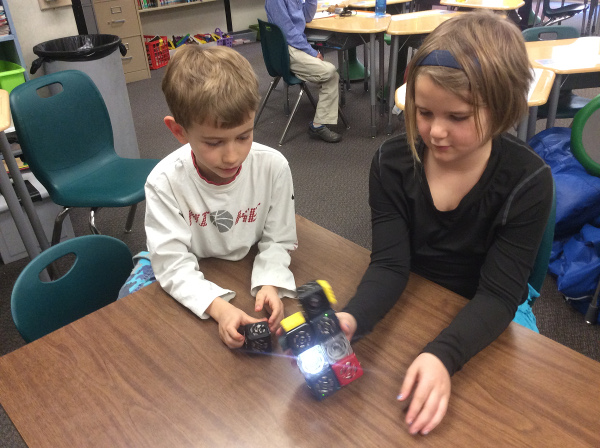 She has witnessed Cubelets helping students, including those with special needs, open up in ways she never thought possible:
When I met my new third graders last August, I had a student with severe special needs… I would only get a shy smile from her occasionally. She felt overwhelmed in our regular classroom and would not make eye contact or interact with the students when she was in our room.

My teammate and her daughters had a wonderful time playing with Cubelets at the Denver Museum of Science and Nature. She told me to check them out. My first thought was not for my after-school STEAM class, but for this student. Here would be a way for her to equally participate with classmates.

I wrote a grant through Donor's Choose for Cubelets. In the meantime, I saw her and two girls belly laughing while coloring! That was a quite a breakthrough! But none of our activities required enough interaction, or were too difficult for her, and we didn't seem to make much more progress. She still would not talk to us even though she could now say a few simple sentences.

Then the Cubelets arrived. A boy and girl explored the Cubelets with her for several days. Then she started talking to them in complete sentences to help her accomplish what she was trying to get the Cubelets to do! The adults cried and the class cheered when we learned what had taken place.

I now get big smiles, sometimes hugs, and an occasional word from her. During our Morning Meeting she will now whisper the information she wants to share to the person sitting next to her. In our current economics unit, one of our students chose her for a business partner and they are making products to sell on our third grade Market Day. This is a newfound engagement with the whole world!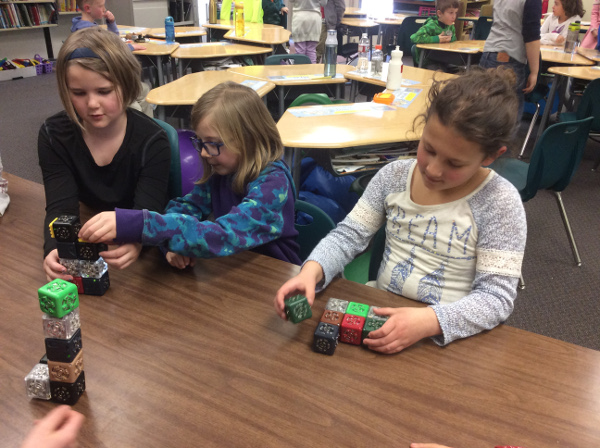 Cubelets have helped build bridges between her students in other ways, as well.
Recently, a new 5th-grade student enrolled in my STEAM class. She does not speak any English and I do not speak any Spanish. Knowing the power of the collaboration possible with the Cubelets, I had her try to figure out how to use them. I had purchased extra battery cubes so more than one child at a time could work with them. After two classes using the Cubelets and getting comfortable with us, she was ready to take on other more complicated activities like building in Minecraft EDU. It was the excitement and success of working with others with the Cubelets that helped her transition and take risks.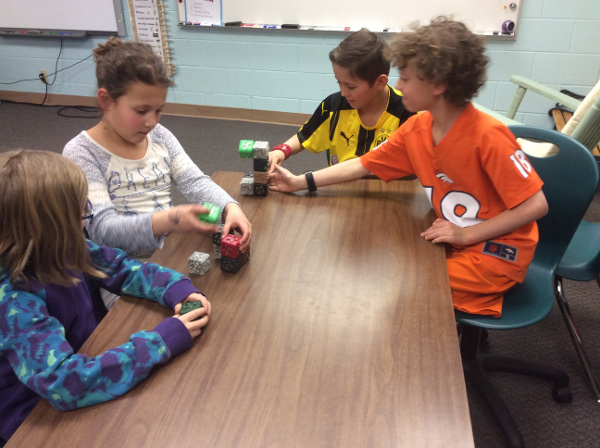 Ms. Grindle admits that she has not even begun to scratch the surface of what is possible with Cubelets.
The impact of the Cubelets constantly exceeds my expectations. I want a way to level the playing field for students to collaborate. I want to extend the concept of coding on a very concrete level by offering a range of coding devices. This one is unique. I want to expose my students to a variety of technology in order to help them become flexible thinkers, problem solvers, innovators, and collaborators. I want to engage struggling students and have them know that learning can be fun and exciting. The Cubelets have helped with all of these.

Last night, I sent the Cubelets home with a staff member and her family. She complained, jokingly, that her husband would not put them down. Then she showed me a movie on her phone of how the Cubelets were being controlled by their wall dimmer switch! And he sent me a challenge to do having separate robots interact!

I have not begun to scratch the surface of what is possible yet. So I know the impact will end up being much bigger than I can imagine!