Jamie Roth uses Cubelets not as an add-on to her curriculum, but as an enhancement to her current lessons.
"Teachers are frequently asked to add more into our already packed curriculum," she says, "and time is always a factor. So, it's extremely helpful when you find an authentic, engaging, hands-on tool to enhance curriculum and to spark that excitement in our students."
Ms. Roth teaches second grade at Fireside Elementary in Louisville, Colorado. She has been using Cubelets with her students for two years. When she introduces Cubelets to her students, she utilizes the free lesson plans for grades 1-3 and has had great success with them. She has found the best way to start is to begin with the "Robots and Sensing" lesson. After that, she guides her students through the other three lessons, which give them a deeper understanding of Cubelets and robotic behavior.
"Because of Cubelets, my students communicate and collaborate well with their teammates," she says. "They are excellent listeners and love sharing their ideas!"
Ms. Roth has found uses for the robot blocks in several different learning content areas. She has integrated Cubelets into her Forces & Motion science unit by having her students document in their science journals what causes their robots to move, as well as why and how they are moving as they do.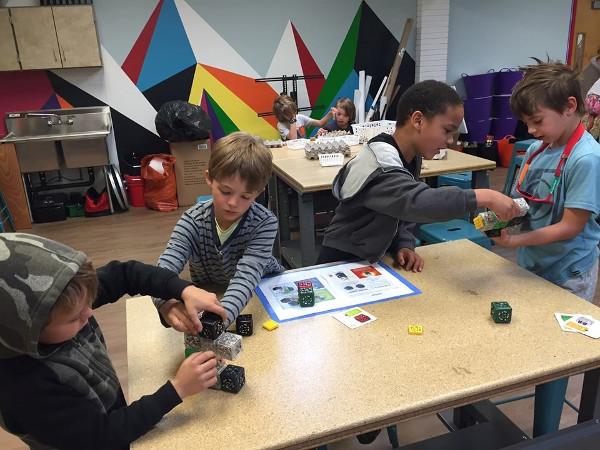 For a language arts application, she has her students write opinions, procedures, and narratives that involve Cubelets. Students write about topics such as "How to Make My Robot." Throughout it all, her students are practicing their 21st-century skills – collaboration, communication, critical thinking, creativity, innovation, and problem-solving – without even realizing it!
Prior to implementing Cubelets in a classroom setting, Ms. Roth used them in a Makerspace. The Innovative Learning Lab had a weekly rotation, and students worked in groups of four while sharing a Cubelets kit. Ms. Roth would issue challenges that students would solve as a group with their Cubelets. At the end of the activity, they would sit in a circle and share their robots with the rest of the class. Students would then fill out a reflection worksheet that evaluated how they and their group members worked together, and what could be improved for next time.
Ms. Roth loves how excited her students get when using Cubelets – she says that they have told her that it's like they're not even at school! Her students are always amazed by how many different robots can be made with just three Cubelets blocks, and how each robot construction behaves differently based on its configuration.
Nevertheless, in the beginning Ms. Roth was overwhelmed by the thought of teaching with Cubelets.
"I'd never used them before, I was hesitant to learn, and I continued to put them off," she says. "Then, I realized I don't have to know everything. My students will help me!"
That is exactly what happened. Ms. Roth learned alongside her students, and, two years later, they are still discovering and teaching her new things.
"Cubelets have really taught my students how to work in teams better than anything else I've ever tried in the past fourteen years."