Travel roughly thirty-one miles west of Auckland, and you will come to New Zealand's Waiheke Island, a scenic destination in New Zealand's Hauraki Gulf with nine thousand permanent residents. Librarian Julia Mount spoke to us about how she has been utilizing Cubelets with young patrons at the Waiheke Island Community Library:
"A couple of years ago, a colleague and I started a digital club/Makerspace that runs on Sunday mornings. Theoretically, the Makerspace is for children between the ages of 5-13 and their families, but often passing parents will involve their pre-school age children in the activities. The Makerspace has since given lots of fun and learning for me as well as those who attend. Because Waiheke Island is a holiday destination, our Makerspace regulars are supplemented with holiday makers during the summer break, expanding the chances for locals to make new friends as well as let families from other locations know what Auckland Council Libraries as a whole has to offer.
"Cubelets are an open play part of the Makerspace. A library team member or child who already knows about Cubelets will demonstrate to newbies how to make a basic robot with just three cubes – Distance, Drive and Battery. We then challenge the newbies to make seven different robots with just the three cubes. While some enjoy the challenge, others just start experimenting and inventing."
According to Julia, Cubelets provided a great chance for kids to learn a number of different social skills in addition to STEM ones. In a library setting, children realize they need to share the Cubelets, be kind to them, and also be mindful of other library users. She points out that Cubelets also build confidence in children's STEM skills, because they are making something they can show to others, both for discussion and for recognition.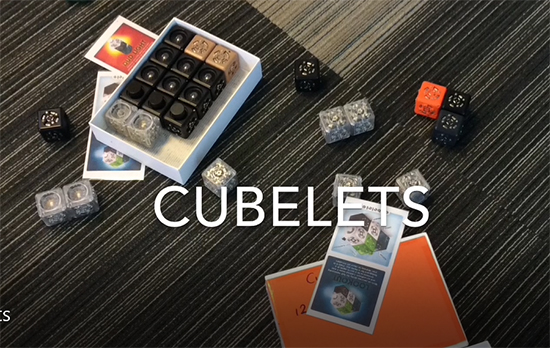 Julia helps kids use the Makerspace to make videos, including some that star Cubelets!
She has also had a number of memorable interactions with the children who use Cubelets in the Makerspace, and believes that Cubelets bring great value to her library's offerings:
"I've had a number of kids bring in their parents specifically because they want to show them "the robots". We also have a small kit set aside with a Cubelets selection in case kids or parents can't come on Sunday, and we lend out the kit for an hour at a time to be used within the library.
"Many families come into the Makerspace for the first time because they see other kids playing with the Cubelets and want to know what these curious little things are. Then they sit down and start playing, too. They might make new friends – other parents, other children.
"I get a high number of dads and granddads sitting down with their kids to make some robots together, and it's a great chance for family bonding time.
"This is also a chance for library staff to talk to parents (or parents to swap notes) on different 21st century learnings that their kids are going to be facing. The library might provide the best chance for parents and their children to experience something hands-on like Cubelets, and it's a real buzz to see the kids showing their parents how quick, clever, and imaginative they can be with new technologies."
For those educators who are starting out with Cubelets, Julia advises to let the Cubelets be for fun and for creativity. If the students need extra challenges, she has found success in giving them handouts of robots to construct, or to play the Modular Robotics YouTube videos for extra ideas. She also turns Cubelets into a challenge! For example, students make "scaredy-bots" and race them.
Julia appreciates the complete focus that Cubelets bring out in children, joking, "Lasers would be coming out of their eyes if they were focusing any harder!"