Don't let educators and instructors fool you by their use of words like "pedagogy" and "paradigm." We know how to have a good time.
I've known this for a long time in my career whether I've been a camp director, after school educator and curriculum writer, working in a pre-school setting or with college students. When the day is done, the lesson plans prepared, and the papers are graded, friends in the "biz" are not only great party-mates but creative in their pursuit of fun. With this in mind, we decided to host some of our closest friends and allies in education here for a dinner party with equal parts fun, learning, good food, and good times.
Since it was our first foray into hosting a community of people who are excited not just about Cubelets, but also about a better way for students to learn, we kept it to a fairly small group hoping they would all get to know each other and be part of a continuing conversation. (Never fear – we'll do this again, and next time it could be your turn!)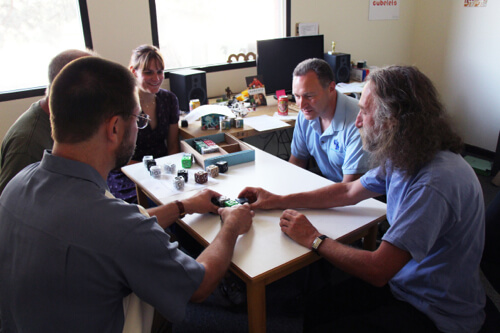 We're lucky to know so many quality Modular Robotics enthusiasts that we could draw together educators representing a lot of variety – Pre-K to high school, from arts and electronics to engineering and robotics, and from public school teacher to retired software engineer/new after school program leader to our friends at SparkFun. Smart, imaginative, and every single one fired up by the idea of how to share ideas and raise hands-on education above the level of playtime.
This kind of talk sounds lofty and high-horsed. I know I have particular ideas about what people should learn and how that can be achieved. I also know I'm not alone. What was special about this gathering was not that it was a crowd of followers, but rather a community of people who each have particular ideas, but care more about sharing those ideas in powerful ways than beating down other perspectives.
Food and fun help bring these kinds of groups together in a positive way, of course, so as hosts we did our part to treat our guests to entertaining education and yummies.
I've been working with a number of science programs that have schooled me in the language of claims and evidence so let me tell this next part of the story in that STEM-speak.
Claim: Even if our dinner menu had been less stellar, the company we gathered would still have collaborated on creative ideas that blew me away.
Evidence: In the "Cubelets Dinner Party Challenge" part of the evening they created chicken and cow robots! Starting with a simple robot (no more than 5-6 Cubelets) they tinkered and came up with robots representing farm animals. Never in my wildest imagination would I have predicted that!
Did I tell you educators knew how to have fun?
We are privileged to be parts of the kinds of learning communities that deeply consider the role of building and making, coding vs. computational thinking, student-lead and discovery-based learning, and how to support authentic and lasting learning. I've shared these moments with our education friends in classes with their students as we excitedly watched what students created and discovered. I've had these moments meeting with our allies over coffee and beer. I've had this moment at events and conferences too, but I don't want these moments just to be warm memories that sustain me at my desk. So, it seemed only fitting that we would take the next step and not just be members of that community, but hosts that help build and sustain it.
What emerged was grander even than that – a genuine desire, from everyone at the table, to be part of a movement changing what students learn, and how they learn it. My kind of party.