Hi Internet. I'm Nev. I'm an engineer here at Modular Robotics.
Remember this post about the big decision to build a factory here in Boulder, Colorado? I'm one of the results of that decision. I was hired in March to help design and build automation systems to build and test thousands and thousands of tiny robots.
A big part of engineering is understanding the requirements of the customer so that their needs can be met. In the past, I've done engineering work for all kinds of folks. I worked on medical devices for a while, so I got to hang out with doctors and nurses and EMTs to learn about how they used existing medical devices and what they'd like to change. Later, I worked with a company building big robots to repair water and oil pipelines, so I met with beefy construction workers and contractors to learn about what kind of abuse a robot might expect on a worksite.
Now I'm making robotic toys for kids, so I spent a day with Christie, Sawyer, and Michael at STEMosphere in Denver, Colorado. This is a free convention to encourage creativity and entrepreneurship in the STEM (Science, Technology, Engineering and Mathematics) fields. There were all kinds of science-y exhibits where kids could do things like rip apart old office electronics, engage in epic robot battle, shoot off pneumatic rockets, learn to solder, and lots more. This was a really cool opportunity, since it gave us a chance to introduce and demonstrate Cubelets to kids, parents, and teachers, and it also let me experience how kids interacted with Cubelets and gave me insight into the most effective ways to build and test the toys.
We showed up early to hang the Cubelets banner above our booth.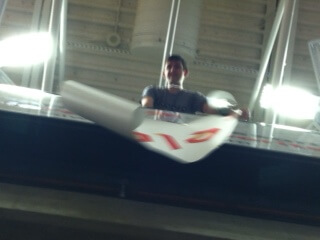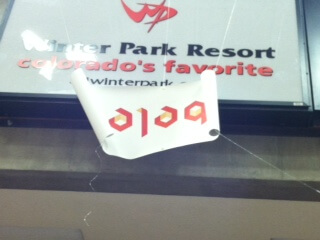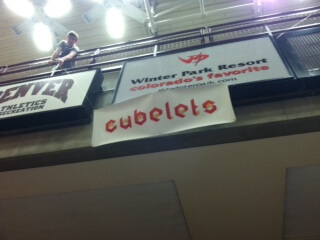 A short while later, the kids started showing up. In droves. I had heard rumors of the amazing power of Cubelets to draw a crowd, and after only a couple hours our table had been pushed back to the bleachers. We had to clear everyone out for a moment to pick the table up and move it back to the line of booths.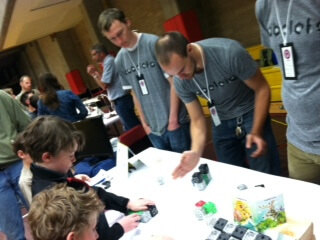 I got to build a couple of my favorite robots, like the steering bot and the line follower. The kids got to build a bunch of their favorite robots, like this awesome lighthouse.
One of the coolest things was seeing kids who had never played with Cubelets before figure out how to use them. It starts with pure structure: they stick Cubelets together to make something that looks like what they want to build. Then, as they play more, they start to understand the different functions of each Cubelet, and alter their creations to perform a desired action. This is where one of the really cool things about Cubelets becomes apparent: the form and function of every robot are directly linked. As kids realized this, the robots became more and more advanced.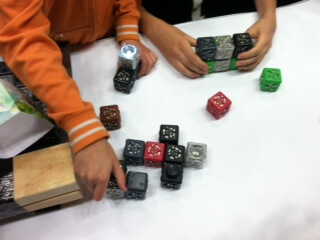 I think that the most amazing thing was seeing the kids' reactions change as they played. When they first start building with Cubelets, they are a bit mystified by them. Then maybe a bit of confusion, and some frustration. Then comes understanding, and finally wonder at what they have created.
Seeing this reminded me of why I became an engineer. Sure, part of engineering is about identifying and meeting customer needs as efficiently as possible…but it's also about playing, learning, and creating. I think it's wonderful that events like STEMosphere exist to show kids the amazing things science can do, and I'm really proud to be building toys that are helping to create thousands and thousands of tiny engineers.