Cubelets robot blocks arrive pre-programmed and ready to go right out of the box. Ready to get started?!
Cubelets snap together by connecting magnetic faces. These faces pass power and data between blocks. Different robotic behaviors emerge depending on the arrangement and combination of Cubelets in your robot construction. Cubelets are a fast and easy way to inspire kids to become better thinkers!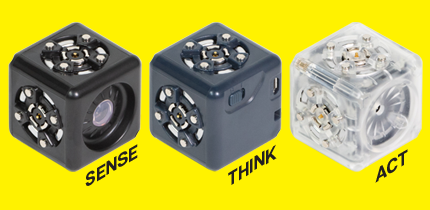 For kids over 6, the addition of THINK Cubelets creates new behaviors in their robot constructions to add an extra challenge. There are 18 different types of Cubelets (see them all in our Cubelets Catalog). Once students have mastered SENSE, THINK and ACT Cubelets, they can reprogram and remote control their robots using the Bluetooth Hat or classic Bluetooth Cubelet with our apps; The Cubelets App and Cubelets Console.
Our Educator Resources Hub is where you'll find our Getting Started Guide, 'Create with Cubelets' tutorial video series, and all of our free lessons, activities, and guides! Start the Create with Cubelets video series with episode one below:
Still have questions? See more on our 'Getting Started' page, and you can always reach us at support@modrobotics.com.