Each robot construction needs a Battery Cubelet for power. The Battery Cubelet powers all attached blocks in your robot construction through the magnetic connecting faces. Just switch your Battery on and you're ready to go!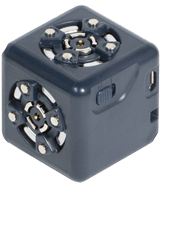 In this guide, we'll go over:
Battery Cubelet LED's
Charging the Battery Cubelet
Miscellaneous Tips
For general maintenance for all of your Cubelets read here.
Battery Cubelet LED's (Power LED and Opposite LED)
Unlike other types of Cubelets, the Battery Cubelet has an LED on two of its faces.
Switch Face LED – On the power switch face is an LED with an amber light and a green light. A solid green light will display when the battery has power and is turned on. A solid amber light will display when the battery is being charged with a micro-USB cable. As soon as the amber LED has turned off, then the battery cell is fully charged and can be unplugged from the charging cable.
Opposite Face LED – This LED is the same type you'll find on other types of Cubelets. It will blink three consecutive times when first turned on if it is running its default code. The LED will blink four consecutive times when first turned on if the Battery Cubelet is running custom code. A custom code could be a 'personality swap' from the Cubelets app or a saved code that you composed in the Blockly app. The Cubelet can be reset using either app. After the initial sequence, the LED will then blink intermittently to show that it is passing and receiving data from other Cubelets.
Charging the Battery Cubelet
All Cubelet sets include a USB to Micro-USB Charging Cable. A micro-USB port is located on the same side of the Battery Cubelet as the power switch and the amber/green LED. Battery Cubelets will arrive fully charged!
Depending on how many Cubelets the Battery block is powering, the Battery Cubelet will hold a charge for 4-6 hours. Once it is plugged in a Battery Cubelet will completely charge in about 90 minutes.
We also sell a 5-Port USB Charger (included in Education Packs) that can charge 5 Battery Cubelets, cell phones or devices at once.
Tips and Miscellaneous
The Battery Cubelet does not have removable battery cells. The classic Battery Cubelet, discontinued in 2014, has a sliding lid and uses 2 Tenergy CR123A 400mAh battery cells.
You cannot pair the Cubelet to any device or computer using the micro-USB port, which is for charging only.
When charging the Battery Cubelet (or any other electronic device), it's best not to leave the Cubelet connected for long after the charge has completed, especially overnight. The amber LED will turn off once charging is complete.
If your Battery Cubelet doesn't seem to be working properly, please contact us at support@modrobotics.com.