"I feel that robots in schools are an incredible equalizer," says Craig Dunlap, a Blended Learning Teacher at Yealey Elementary in Boone County School District in Florence, Kentucky. "No one really knows what they are doing, so it's OK not to be an expert."
Mr. Dunlap runs Yealey's makerspace program and assists other teachers with integrating technology in their classrooms, whether that's Chromebooks, iPads, or, of course, robots. He continues, "I love one-on-one time with students over robots. We learn a new skill and form a bond at the same time."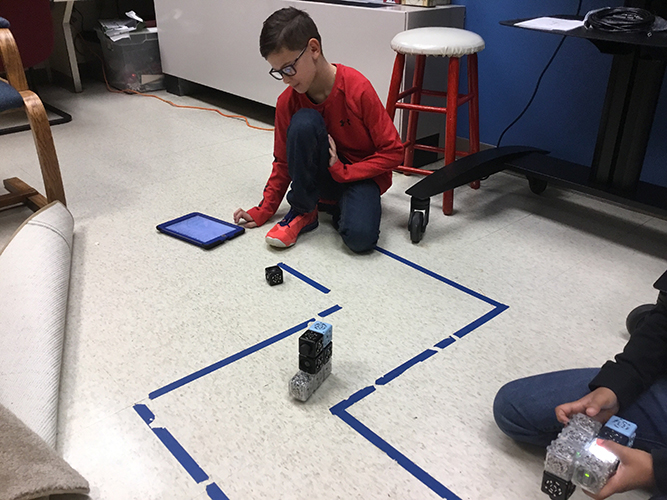 It took some time, however to realize his makerspace vision.
"Anyone who has been around makerspaces will know that this is a wide and sweeping set of activities and tools that are loosely connected under the "maker" label. When I built my makerspace, I opted to go the digital route. I gathered robots and coding tools, among other things," he says. "After a year of experimenting with this model, I realized I had a lot of fun stuff that could make a big impact on the science and engineering practices of our STEM goals."
Even with intuitive ed tech tools like Cubelets, making the most out of them requires some intentional use. For Mr. Dunlap, that intention came in the form of a creative way to motivate student learning.
"That's how I devised my badge program. I created specific goals for each of the devices in my room. These tasks build on each other so students are continuing to grow in their engineering skills.
"Cubelets are definitely a driving part of the badge program. The robots are easy enough to put together that a kindergartner can enjoy them yet complex enough that a fifth grader can do amazing things. Students love using them, and I love watching them create with Cubelets."
The little robots have helped Mr. Dunlap connect to students in new ways.
"We are tapping into a totally different intelligence here. I approach each set of students with the mindset that I can reach these kids differently than their regular teachers can reach them. You never know if we are unlocking a new world for a student when he or she walks into my room. Cubelets play a huge role in that.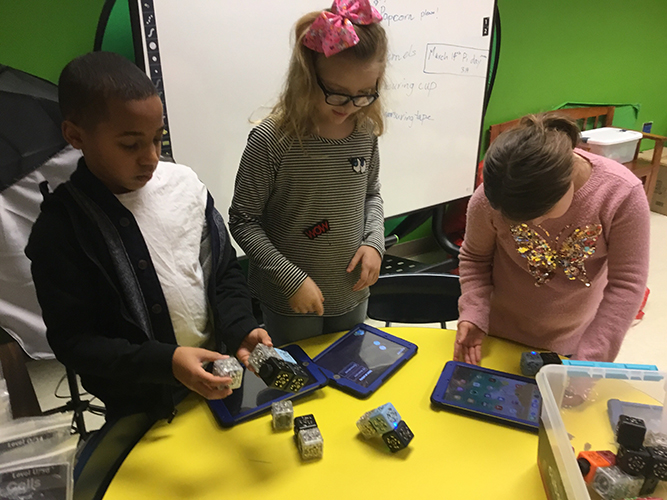 "Last school year, I spent a lot of one-on-one time with a third grade boy. We did a lot of makerspace activities together, but he really took to Cubelets. We learned how to build the robots together. Then, we tackled the Bluetooth blocks and the iPad app together too. One day I got a chance to invite my colleagues to my room as a PD and I had this young man run the Cubelets station. He was teaching the teachers how to build and run the robots. He was in seventh heaven, and the teachers ate it up, too!"
Mr. Dunlap wasn't alone in wanting to get his makerspace program just right.
"Mod Robotics has been a huge help! Numerous members of the staff have answered my questions, ad nauseum. They have helped me troubleshoot cubes that are misbehaving and figure out the online software. I have even had help with lesson planning, as their education specialist has tweaked my ideas to help me get the most out of my students."
All of this planning has made a big difference for his students. "So much of school is sit and listen, read and write. Teachers today make things student-directed, but there is so much curriculum to cover and tests to prep for, students can't always have that much of a say in things."
He says, "Cubelets (and the makerspace movement in general) turn that on its head. Students can learn at their own pace. They can tinker and experiment. They can make mistakes and try again."
This kind of self-directed learning has had a profound impact on his students as they grow through trial and error and learn new skills that teachers and parents could not have predicted five years ago. Plus, watching his students realize what they can create is a reward in itself.
"Their mouths drop open, soon you hear laughing and a lot of excited chatter. It's great to see kids explore by putting a ton of blocks together then slowly start to figure it out. I try to keep my instructions to a minimum and let them engineer it. I love it when they find success."
---
Images provided by Mr. Dunlap and used with permission.